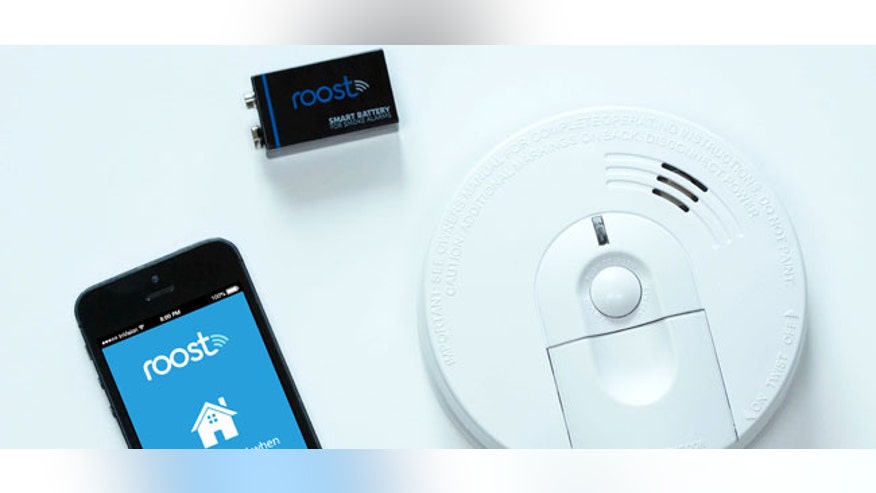 At any given moment there are approximately a zillion different crowdfunding campaigns happening on the Web. Take a stroll through Kickstarter or Indiegogo and you'll find there's no shortage of weird, useless, and downright stupid projects out there – alongside some real gems. We've cut through the Pebble clones and janky iPhone cases to round up the most unusual, ambitious, and exciting projects out there this week. Keep in mind that any crowdfunded project — even the best intentioned — can fail, so do your homework before cutting a check for the gadget of your dreams.
Roost — Smart smoke-alarm retrofit
Like the idea of having a network-connected smoke alarm in your house, but don't like the idea of replacing your oldschool alarms with expensive "smart" models like Nest Protect and the like? Check out Roost. Instead of forcing you to purchase a handful of brand-new smart alarms, the Roost smart battery offers a way to retrofit your existing smoke and carbon-monoxide alarms to give them an entire range of smart functions. It's shaped exactly like a regular 9-volt battery, but in addition to functioning as a rechargeable power source, the device is also equipped with a set of Wi-Fi radios that allow it to connect to your home network. This way, it can use the Cloud to push a notifications to your smartphone whenever the battery gets low or the alarm is activated. No more being rudely awoken by the beep of a power-starved smoke alarm, and no more worrying about your house while you're away.
Ramos — Uncheatable alarm clock
Ramos takes a novel approach to getting you out of bed. Rather than letting you endlessly hit the snooze button, the clock actually forces you to get out of bed. When the alarm comes on, it won't shut off until you physically get out of bed and bring your smartphone within range of a small Bluetooth beacon. The idea is that you place this beacon somewhere away from your bedside — maybe your closet, your bathroom, or even next to your coffee pot in the kitchen — so you've got no choice but to leave the comfort of your mattress if you want to silence the alarm. Unlike your phone alarm, there is no way you can cheat Ramos. Even if you unplug it, the clock's backup batteries will keep Ramos alive for hours. There's even a special "Lockdown" setting that prevents you from waking up early and deactivating the alarm before it goes off. And the best part? It's just $100 bucks — a full $400 cheaper than the original, despite all the new-and-improved features.
Everykey — Wearable passkey
Wearable passwords and keys are becoming more prevalent, and the Everykey is the latest device to enter the game with a "fashion meets security and convenience" proposition. The wristband uses Bluetooth technology to easily unlock smartphones, tablets or computers — not to mention car doors, bike locks, and everything in between. It also acts as a password manager that automatically logs the wearer in to their various online accounts. The device, which looks the Jawbone Up's first cousin, aims to replace physical keys and password managers, and is able to unlock electronic devices if it's within a specified distance up to 9.8 feet away. If you should ever lose EveryKey, you can remotely deactivate it with a simple phone call, and wipe all your passwords and other sensitive data from it. Check out our full article to find out more
Hush — Smart ear plug
As the population rapidly approaches the 7 billion mark, it's become increasingly difficult to find legitimate peace and quiet these days, and if you live in a more densely-packed region of the world, shutting everything out and getting a good night's sleep is easier said than done. That's what Hush is for. These little wireless, noise-masking earplugs are designed to help you cut out the rest of the world, but still let you hear things like alarms, alerts, and phone calls. They work just like normal earplugs, but with the help of the accompanying Hush mobile app, users can adjust settings to allow important phone calls, calendar alerts, and wakeup alarms to go through—without disturbing sleeping partners. The app also enables users to fall asleep to the sound of ocean waves, rainfall, and even binaural beats — special tracks designed specifically to help you calm down and pass out.
Bionic Bird — Bird-like RC drone
Quadcopter drones are one thing, but this contraption from French designer Edwin Van Ruymbeke takes a completely different approach to flying. Unlike most drones, which rely on spinning rotors, or stationary wings to generate lift, the Bionic Bird uses a pair of flapping mechanical wings to go airborne. Equipped with a tiny 0.8-Watt electric motor, and powered by a small lithium polymer battery, the entire thing weighs no more than a third of an ounce, which means it doesn't take much force to keep it aloft. And the coolest part? Bionic Bird connects to your Android or iOS mobile device via Bluetooth 4.0, so you can control it from up to 328 feet away using nothing more than a smartphone. Ruymbeke designed the control app to be extremely intuitive, so piloting the bird is as easy as tilting your phone forward, back, or side to side. The project has already blasted past it's $25K funding goal on Indiegogo, and the first units are expected to ship before the end of 2014.
Related articles across the web
Share and Enjoy
Google+